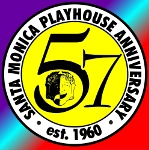 Santa Monica Playhouse
All ages love SNOWHITE: THE MUSICAL - a heartwarming mother-daughter musical fairytale for Kids 2
Santa Monica Playhouse - The Other Space
1211 4th Street, Santa Monica, CA 90401
Feb. 11th - Mar. 26th
"Pure, lively (and live) entertainment! It is remarkable to see two dozen children abandon their electronic devices to watch a live stage performance and, when prompted, hear their advice and warnings called out to the heroine. SNOWHITE at Santa Monica Playhouse provides such a theatrical (and non-CGI) experience!" Tolucan Times.

The Rudie-DeCarlo musical fairytale for all ages is a captivating tale of companionship, coming-of-age, and the magical bond between mothers and daughters takes audiences on a magical adventure as everyone's beloved young heroine journeys to find herself, her mother, and her true destiny, aided by Seven Silly Companions and a Most Magical Mirror.

No evil Stepmother, no shadowy forests or villainous potions; just a wondrously humorous and touching story of friendship, dedication and discovery, as Snowhite, and the audience, learn that love does, indeed, conquer all, even though it can sometimes be found in the most unlikely places. Audience member M. Ferrante exclaims, "Awesome! Great message!"

Members of internationally renowned Actors' Repertory Theatre Meghan Nealon (Into the Woods, Shakespeare's Other Women), Cydne Moore (Beauty and the Beast, Absolutely Halloween) and Michala Peltz (No Returns, Absolutely Halloween), join guest artists Bethany Dream (Bye Bye Birdie, Gypsy), Krit Gough (Metamorphoses, Barefoot in the Park), Margot Leach (Mousetrap, Hamlet) and Filipina-American actress Julia Masterson (Evita, Circle Mirror Transformation) as Snowhite. Written & directed by Playhouse Co-Artistic Directors Chris DeCarlo and Evelyn Rudie.

Birthday parties, hosted by gaily-costumed fairytale characters, are available with every performance. Saturdays 2pm, Sundays 12:30. All current protocols are observed.

Santa Monica Playhouse, celebrating 63 years of continuous operation, is supported in part by the City of Santa Monica and the Santa Monica Arts Commission, the Los Angeles County Board of Supervisors through the Los Angeles County Department of Arts and Culture, the Ahmanson Foundation, the Rotary Club Foundation and Playhouse PALS.